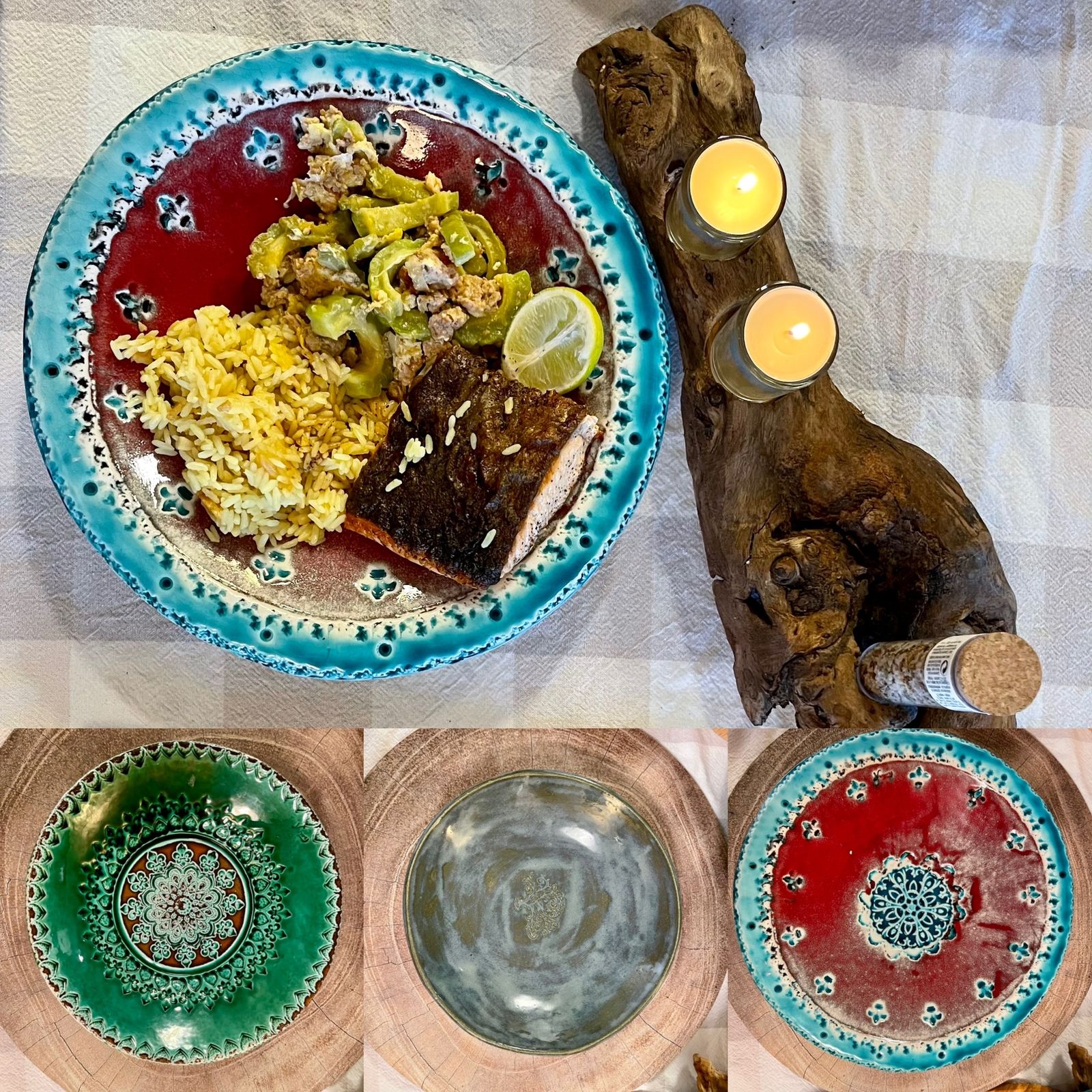 In one of those sleepless nights, surf shopping, I discovered this beautiful Buddha bowl (center bowl). I have been purging and have two sets of dishes. I don't think, I will be hosting more than 4 people in my home. What to do with all these plates and serving dishes? I've decided to just get a beautiful set that is "mine." I saw one in Etsy however, I was scheduled to go to Portugal and decided to hold off purchasing since I've heard about the beautiful pottery there.
I ended up buying two beautiful bowls but there was something about the simplicity of the Etsy bowl with the tree of life in the bottom.
This started my journey to self-love. I started serving my meals in these beautiful bowls. Since I can't microwave in it, it requires extra time to warm up dishes and beautifully arrange the food in the bowl. It forced me to add color to the meals (Ugh! That means greens…lol). Then, I went further, I set up the table even used linen napkins, and lit up candles. Poured water in a glass when I just used to drink directly from a water bottle.
I've started asking myself, what would you've done if it were for someone that you love?
Using beautiful dishes, treating myself to good meals, mindful eating. The journey to self-love.
I guess I forget that I've got all the answers
And I forget that I've got all I need
Guess I forget that the path isn't easy
And what I seek is already in me
When will I learn
That I've got this
When will I learn
To trust the process
When will I learn
That I've got this
When will I learn
To trust the process
There are days that I lose my believing
And there are days I lose touch with my soul
And there are days when the fire inside me
Is nothing more than embers and smoke
When will I learn
That I've got this
When will I learn
To trust the process
When will I learn
That I've got this
When will I learn
To trust the process
When will I learn that I've got all I need
When will I learn that I'm already free
When will I learn that I've got all I need
When will I learn that I'm already free
When will I learn that I've got all I need
When will I learn that I'm already free
When will I learn that I've got all I need
When will I learn that I'm already free
When will I learn that I've got all I need
When will I learn that I'm already free
When will I learn that I've got all I need
When will I learn that I'm already free
When will I learn that I've got all I need
When will I learn that I'm already free
When will I learn that I've got all I need
When will I learn that I'm already free