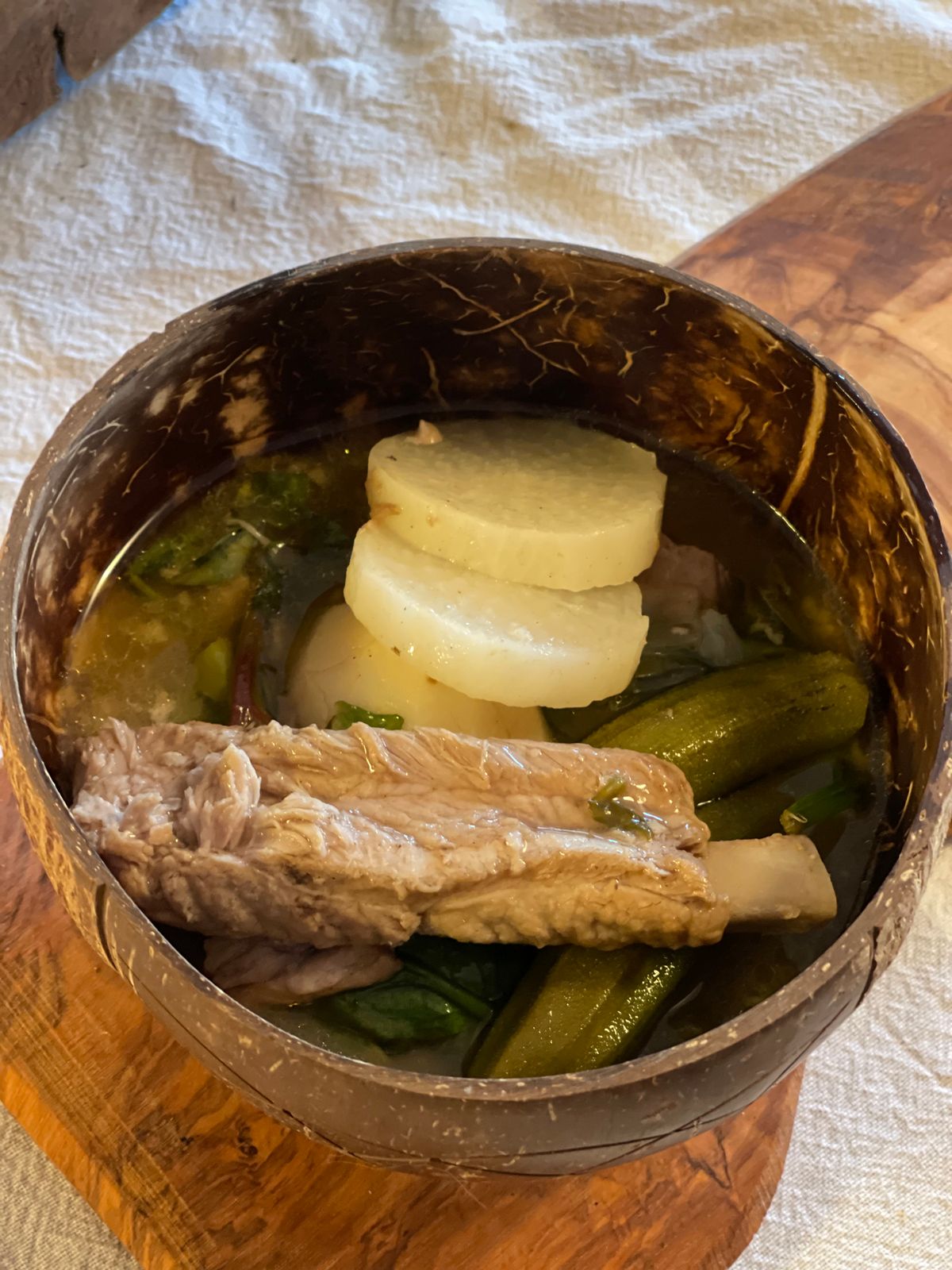 Tamarind Soup (Sinigang)
Sinigang is a Filipino dish made with spinach, pepper, okra, radish, tomato, onion, taro root and protein of your choice. This is my favorite comfort food. We used to have it every weekend in the Philippines. It has now been rated as the best vegetable soup. Sinigang 'best rated' vegetable soup in the world (cnnphilippines.com)
For the past 3 months, I stopped making and eating it since I associated it with an ex with whom I excitedly shared this wonderful soup. Somehow it lost it's comforting magic. It symbolizes my culture and my family. The sour taste of tamarind with mildy spicy flavor when combined with fish sauce and calamansi (almost like key lime) is just the perfect combination. It is a great vehicle for green vegetables which I confess I don't eat a lot. You can also use different kinds of protein from fish, pork, chicken, beef or just various vegetables. Of course, it is best served with warm white rice.
For Thanksgiving, I've decided to celebrate myself. To honor what I've been through and to treat myself with much needed self care beginning with meditation and yoga. Then heading back home to wear my brand new unicorn onesies. Have lots of fun stuff to look forward to from building legos, fake fireplace (Netflix video lol)movies, books, dancing, guitar and drum playing, Ollie or take a long nap. Can't wait to get calls and call love ones. And one thing is for sure, I will have Sinigang all day and not the traditional turkey. I am honoring on this Thanksgiving Day the strength, openness, caring and playful side of me. I will fill my home with lit candles representing the people that I love and have continued to support me in this journey. It will be a celebration of my unfolding and the work I've done. I hope I don't sound like a narcissist, I finally am able to find joy again and the best part is it's in me. It sure crosses my head that this will not last and thus the need to celebrate with me, I and myself. I always dread the holidays and my ex and I had great plans. It surely is disappointing. This will be the first time I will be celebrating Thanksgiving on my own but not feeling alone.
Not sure what the day will bring. Right now I am just grateful that I AM. Looking forward to an orgasmic meal.


TO SELF LOVE!!!

PLEASE JOIN ME NEXT SUNDAY, DEC 5th Sangha. Details can be found on the home page.
VERSE 1
I go to battle with my doubts
I wage a war with my ego
I try to feed the good
And starve the evil
All of these things that I've faced before
They seem to come right back and ask for more
CHORUS
I won't runaway, away away from them
I can't hide from all the things that live within
So I will rise above the fear and let them in
It's gonna hurt, but that's the work
It's gonna hurt, but that's the work
VERSE 2
I keep reminding myself that I've got the key
And that I'm the only one who can set me free
I can beat the demons and brave the storm
Even if they manifest in another form
—CHORUS—